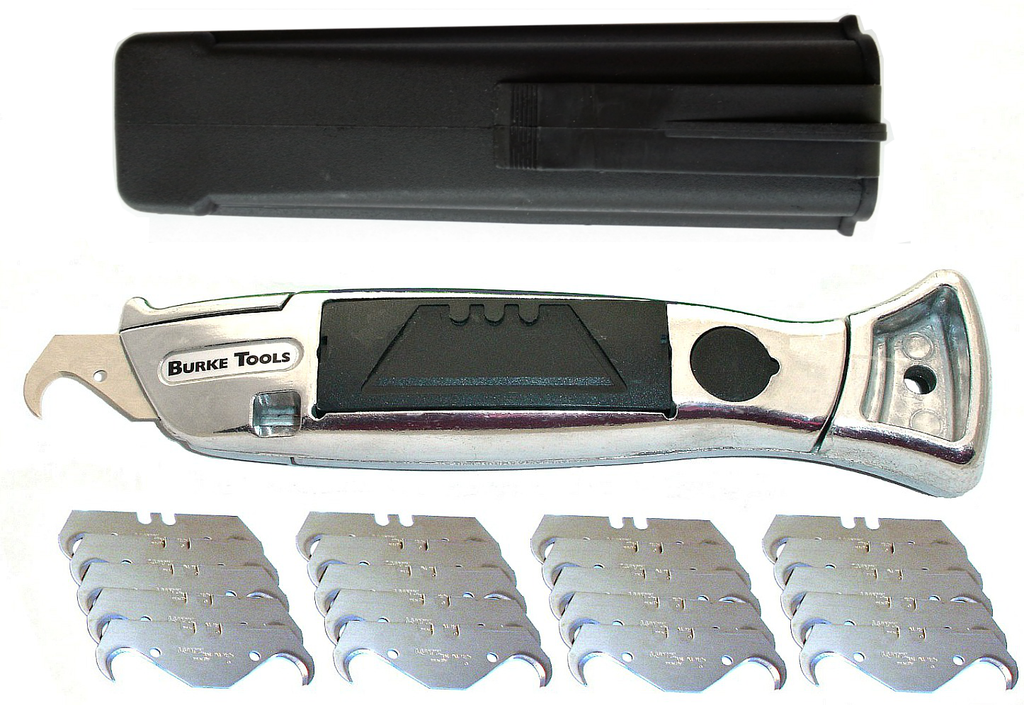 Burke Tools
BURKE TOOLS K550 SILVER KNIFE with 20 GERMAN BLADES CHOOSE: DEEP HOOK, SMALL HOOK, CONCAVE OR STRAIGHT UTILITY
Sale price
$45.95
Regular price
$48.95
The NEW SILVER KNIFE is a smaller version of the original Green Knife that pivots open to change the blade. The heavy duty construction makes it perfect for cutting roofing materials, sheet goods, carpeting and other tough materials. Unique shape provides the user with leverage and ergonimic handle design.

· No tools required for blade change · 20 German blades in convenient dispenser & Holster included · Shape designed for non-slip grip and Safety Thumb Stop

Roofers', carpet installers, and many other professionals that have used the knife, prefer it over any other utility knife they've used. While it is more expensive than an average knife, the cost is heavily outweighed by the benefits. Durability, efficiency, ergonomics, convenience all add up to making life a little easier for the user.

Our Blades are the superior blade in the industry. They are made in Solingen Germany by the patented 'Friodure Ice-Hardening' process. The steel is heated to over 1000 C, then cooled to -70 C rendering the blades with razor sharpness, high edge retention and corrosion resistance. · Blades last 50% longer · 1 box contains 5 cartridges/20 Blades each for a total of 100 blades

DEEP HOOK BLADES - (see Blades, Item# B200) · Deep Hook allows for excellent cuts, even on difficult materials

SMALL HOOK BLADES - (see Blades, Item# B300) · Smaller/shallower hook, ideal for cutting carpet, linoleum, canvas, rubber, and plastic sheeting

CONCAVE/ TALON - (see Blades, Item# B400) · Concave blade provides an elongated concave cutting surface for deep cuts. Ideal for cutting canvas, plastic, cardboard, luan, rope, string, and underlayment

STRAIGHT/ UTILITY - (see Blades, Item# B100) · Multi-tasking heavy duty straight blade

Product Includes: 1 SILVER KNIFE with 20 German Blades and a carrying Holster.
---
More from this collection